If Your ford C-Max brake light not working. Here we're going to tell you how to replace burned-out taillight bulbs easily. On the passenger side and driver's side, there are two working taillights. Find out which one is faulty. Ford has made this process really simple to complete the 2013 Ford C-Max hybrid brake light replacement of your own. You don't need any tools at all you could do everything with just your hands.
How important is the 2013 ford c-max hybrid brake light replacement?
After applying the brakes your brake light is on. This indicates that you are slowing down who is driving behind your car so they can slow down their car as well. A faulty brake light never indicates, so your car could be harmed by who is driving behind your car. It is also devoid of important safety. It is illegal to have not a working braking light which results in you could get a ticket.
What Are The 2013 Ford C-Max Hybrid Best Brake Light Bulb?
There are the five best bulbs that can you use in the 2013 Ford C-Max Hybrid as a brake light. You can choose any of these bulbs twice as long as any standard bulb. These are designed for durability, lower maintenance, and better safety. You can also use brake light bulbs in all types of Ford C-Max Hybrid and Energi vehicles.
Sylvania 7443 LongLife Mini Bulb.
Sylvania 7443 SilverStar Mini Bulb.
Sylvania 7443R Red ZEVO LED Mini Bulb.
Philips 7443 LongerLife Miniature Bulb.
Philips 7443 CrystalVision ultra Miniature Bulb.

What are The Types of 2013 Ford C-Max Hybrid Rear Light?
There are different types of rear light that the 2013 Ford C-Max Hybrid vehicle use. Those are single poles and double poles bulb/light.
These are the types of light that are used for different types of indications in the rear. Some light shows different indications from the same bulb because they have two different poles and different connections.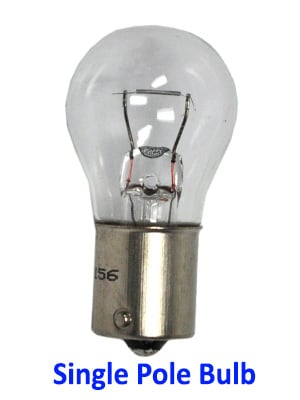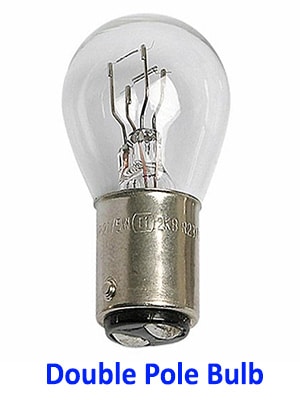 These ford c-max rear brake light bulbs are the same for the 2013 ford C-Max Hybrid and Energi vehicles. For example, the brake and side indicator has the same bulb with two different poles and connections.
Different types of the rear light.
Tail, Brake, reverse and direction indicator light.
The center high-mounted brake light.
Parking light and License plate light.
Also some are given below the Application and Bulb chart.
Bulb Specification Chart of 2013 Ford C-Max Hybrid Rear Light?
2013 ford c-max tail light replacement bulbs are specified in the chart below. The correct bulbs will not damage the bulb assembly or void the bulb assembly warranty. Also, This will keep the quality of the bulb good and long-lasting.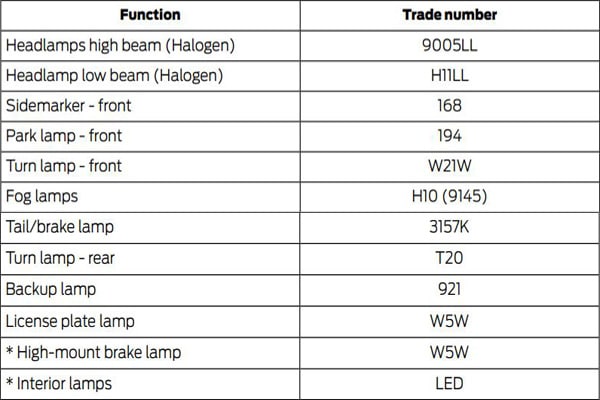 To replace these light and all instrument panel lights – find your Ford C-Max Hybrid authorized dealer.
When your warranty is over you can buy those bulbs from any auto store near you according to trade number.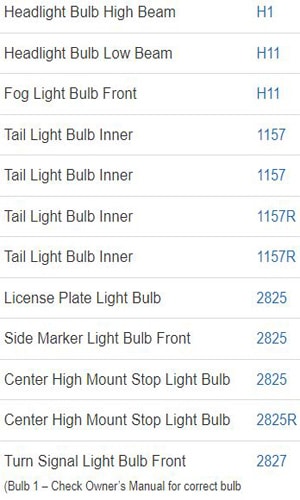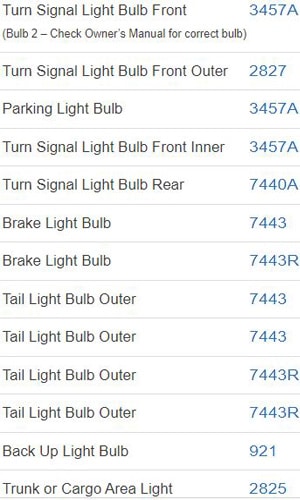 All the bulb specifications are the same for the 2013 Ford C-Max Hybrid and Energi vehicles.
Also when you will to the auto parts store to get a replacement bulb. They will ask it was for the liftgate or for the quarter panel. You need exactly the same one for the 2013 ford C-Max hybrid brake light replacement.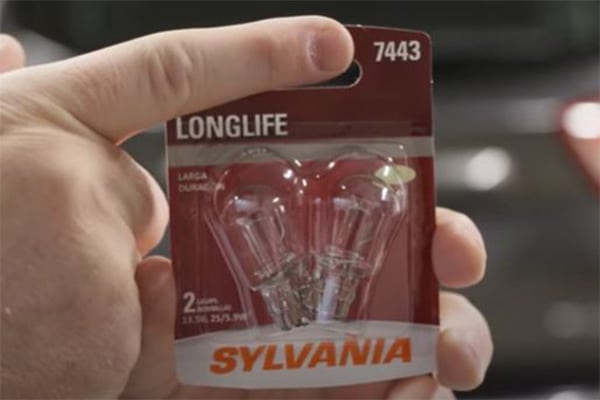 The quarter panel definitely uses the bulb with code 7443. For the liftgate it has a different code, no matter where you buy the bulbs, you must check the bulbs while buying. (For the UK version code could be different. Follow this to know about bulb prices and codes).
If you do not find the exact match of the trade number of your bulb. You can also buy another manufacturer light just need to ask any auto parts store to get it. These bulbs also have specific code numbers, sizes, and bulb wattage. Also, check the car owner's manual for sure. The manufacturer doesn't matter these are just the bulbs whichever you buy. So you will notice that these bulbs almost always come in a pack of two. Because the life expectancies of these bulbs are such that once one bulb has burned out the other side is never very far behind.
What are the Problems of a failing 2013 Ford C-Max Hybrid Brake Light?
There are two main problems you can face. Those are Brake lights don't turn on and A warning light comes on. Also, there are several problems that could be the issue like bad wiring, corrosion holder, and other malfunction. But these two are the main reason which will tell you first that your brake light not working.
Brake Lights Don't Turn On.
When when you press on the brake pedal they won't emit light If your brake lights die or burn out. It's a good idea to make a habit of checking your lights occasionally. Tell someone to stand around your car then check them all: high beams, headlights, blinkers, tail lights, and yes, brake lights. Also when you take your car for general maintenance or oil changes, the mechanic will usually check your lights to make sure they're all working properly.
A Warning Light Comes On.
Most modern cars have warning lights. When the warning light is on, it indicates that one of the lights in your car is not working. If your car is flashing the symbol that looks like a brake light, that means you may have a faulty brake light that needs to be fixed.
Ford C-Max Brake Light Fuse Burns Out.
Ford c-max has three fuse boxes. For the brake light, the one that we need is the one under the hood fuse box. Remove the cover then under the cover will find a fuse layout, that you can locate the brake light fuse very easily. So the fuse that we need to check is fuse number 21 with 5amp. Check out if the fuse is burnout or not. If Your brake light fuse is burned out then replace it.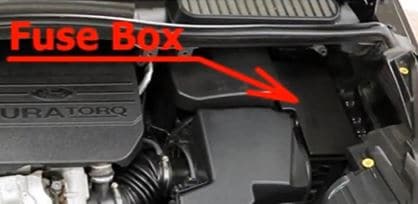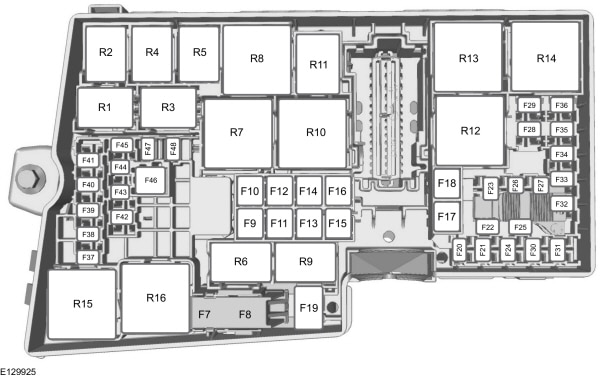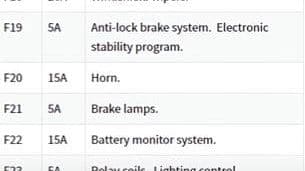 What To Check Before The 2013 Ford C-Max Hybrid Brake Light Replacement?
Some vehicles have a warning light on the dash that will actually give you an indication that they're not working.
Now first push on the brake pedal then find out which side of the taillight is off between passenger or driver.
Then you need to check, all brake lights are out or only one brake light is out.
Check brake/tail light fuses. If the fuse is blown then replace it. It's always a good idea to test all the fuses.
Then just take a look at the connections are good or broken.
Check bulb socket corrosion or lose connection.
If you look at the filament inside and it looks obvious that it's broken or damaged, then obviously, you're going to need a bulb.
Test the bulb terminals with a test light or multimeter.
These are just simple common checks of your vehicle's tail light. After completing these checks if you do not find the problem then you must take your vehicle to a mechanic but it will cost you.
TIPS: For quick results, you just need to check the fuse and bulb. Generally, these two are common problems that happen most of the time.
If you find the problem which tail light is faulty. Then just follow the next 2013 ford c-max hybrid brake light replacement steps it is very easy that you can do it yourself.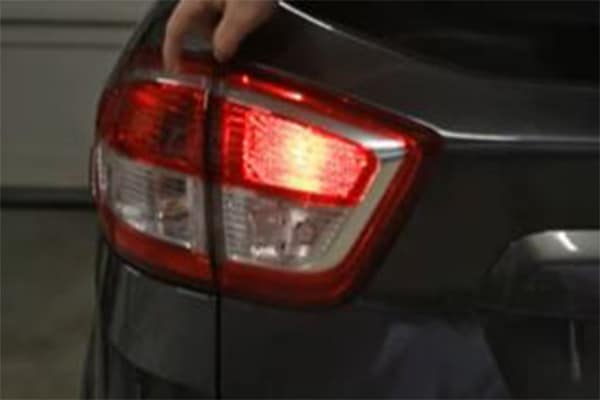 To complete steps perfectly here is a given example, imagine that the driver-side one taillight is not working. So you can see the liftgate that is working correctly and the one in the quarter panel is burned out and this is the bulb that needs to be replaced.
How to Do 2013 Ford C-Max Hybrid Brake Light Replacement Step by Step?
Brake and other tail light troubleshooting and replacement procedure are the same. These replacement steps are effective for all types of the tail light. These steps are not only for the 2013 Ford C-Max hybrid but also for the C-Max Energi vehicle.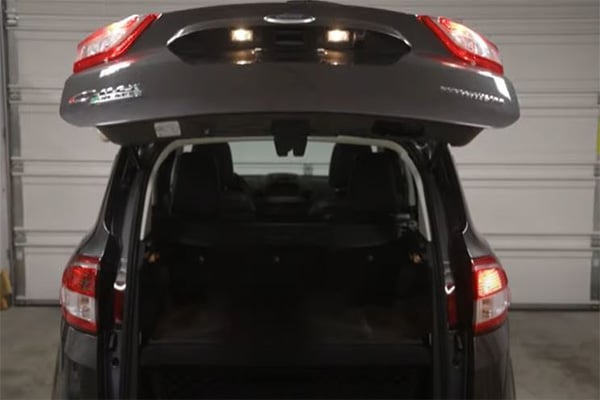 Make sure the lighting control is in the off position. Step one is to open up the liftgate.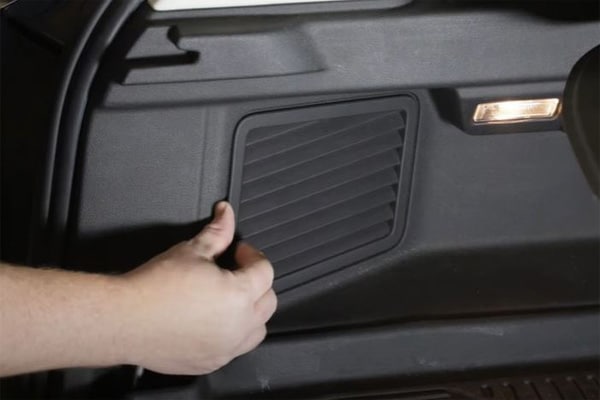 Behind the tail light in the trunk area, you will see this little access panel. Then just hook your thumb right into this little area right here and pry it out it takes a little bit of force.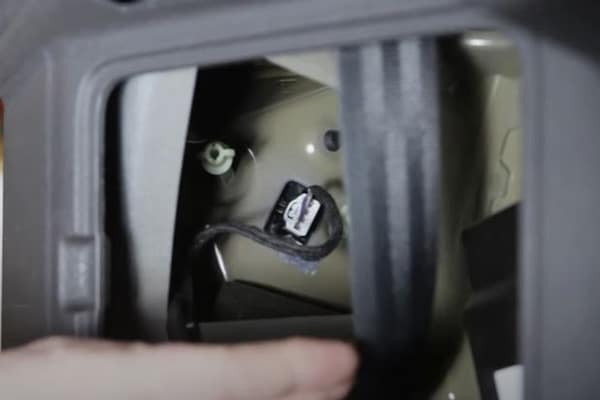 But it's not that bad once you remove that access panel. Now push the seatbelt out of the way that's being held there by the tensioner.
That will reveal that there are two posts that you need to unscrew there's the first one is left side and the second one is on the right side.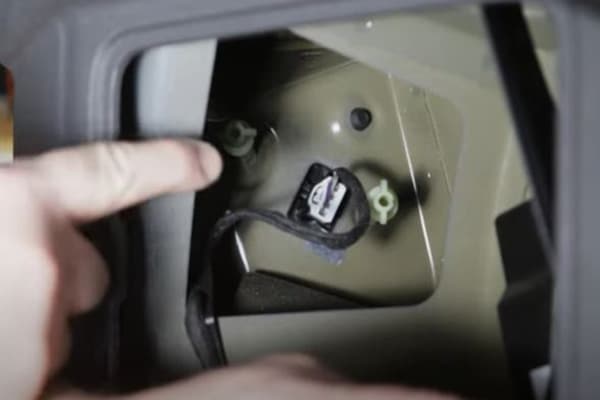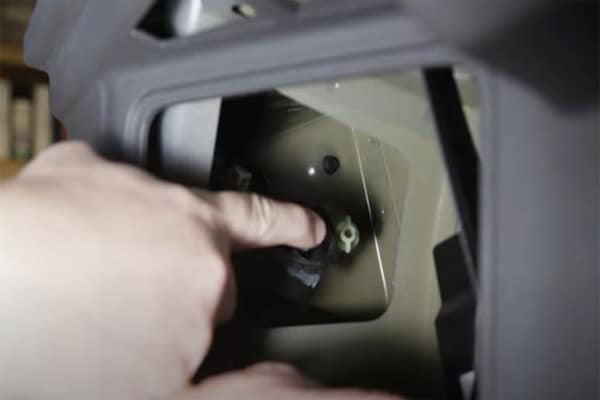 These are not very tight from the factory and you should be able to just reach in and twist them off with your hand.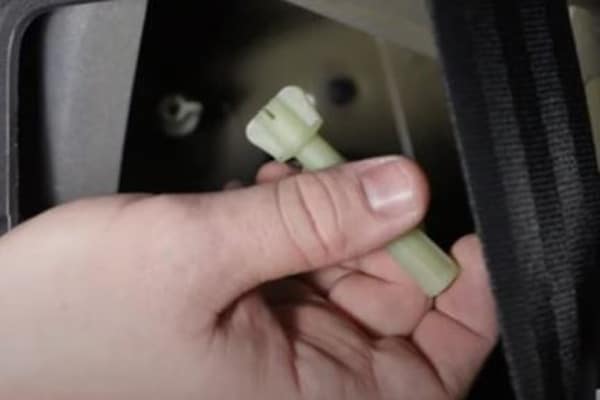 Here's what these posts look like once they've been removed. You can see they've got little wings on the side that make them easy to spin out with your thumb and forefinger in case they are just a little bit too tight. They also have a slot in the end there where you can use a flathead screwdriver to remove them If you need to. After these posts (wings screw) were removed.
Now you can remove this entire light assembly from the back of the car. There's not much holding it in but it might be a little stiff to pull out there are two posts one is at the front and one is back and they're both pointing the same direction.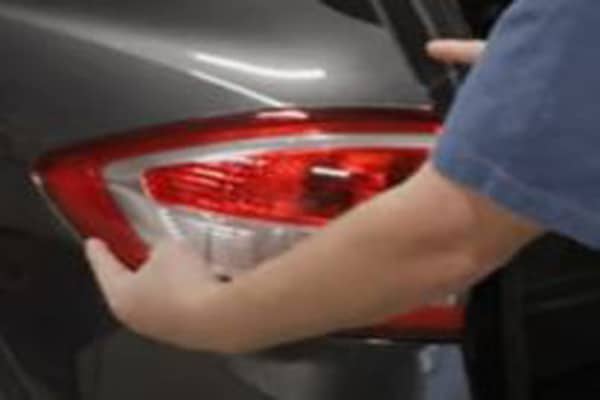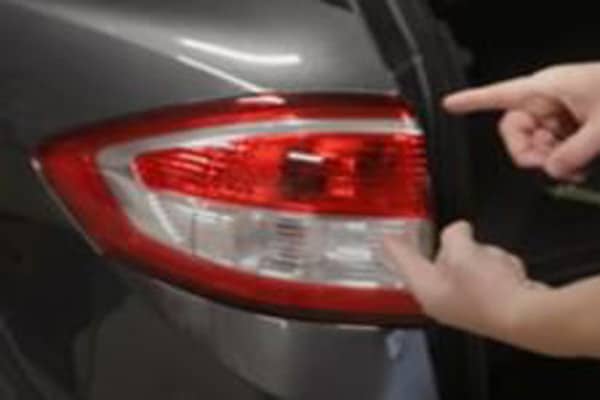 So to pull this out all we need to do is give it a fairly stiff pull straight back.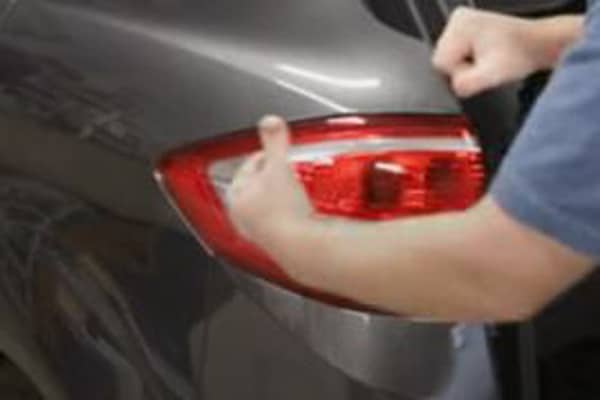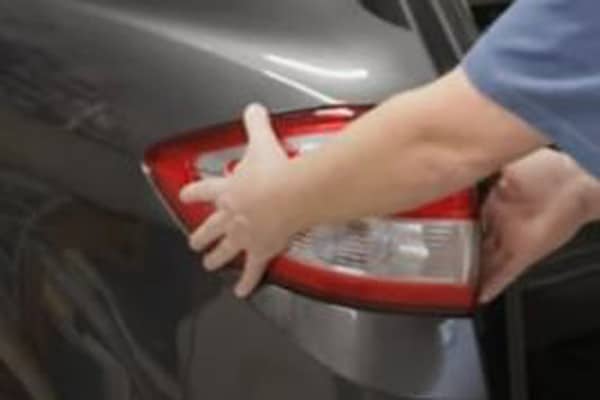 So the last thing to remove is this wiring connector. Don't just yank on this you can damage the wiring. There is a little tab right here on the top part that you need to just use your thumbnail to push straight down on. Then if you wiggle kind of back and forth a little bit that connector comes right out with this assembly completely removed from the car.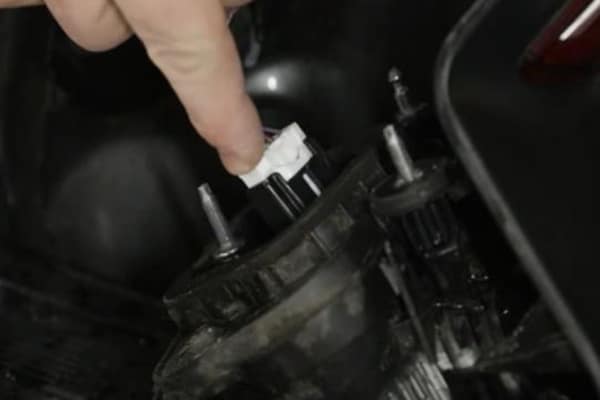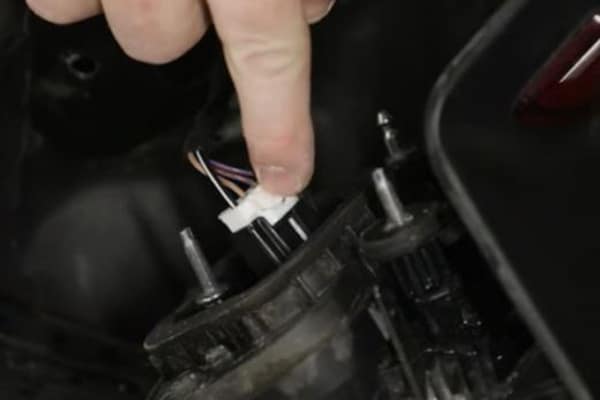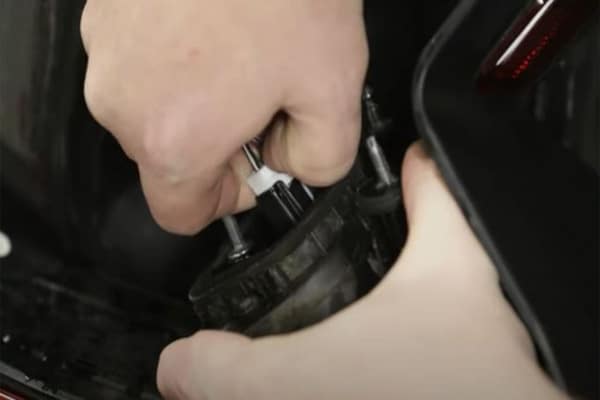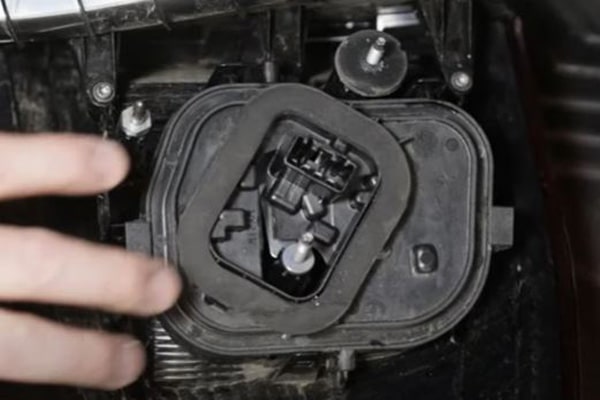 Now we just need to pull this bulb holder out of this assembly.
It's held on with three little tabs. The easiest way to remove these is to just push the tab away from the bulb holder and that will free the holder itself.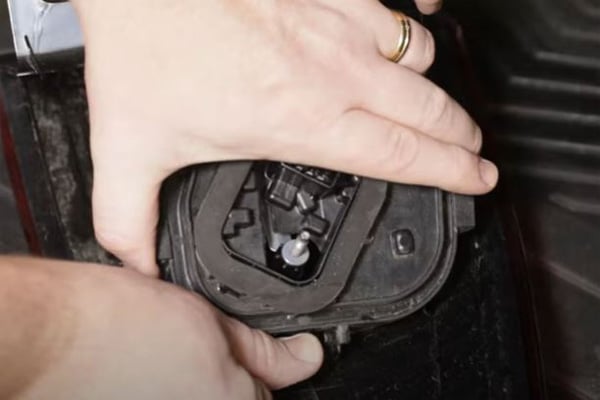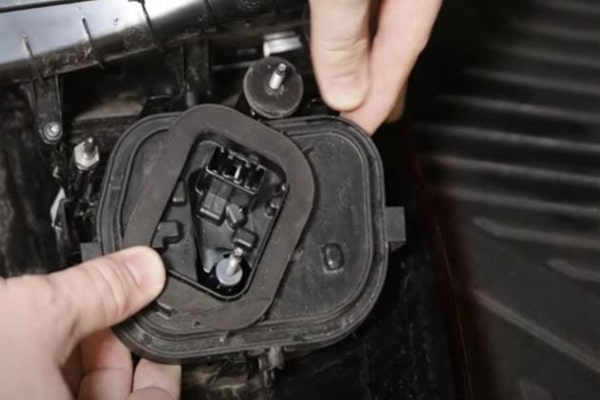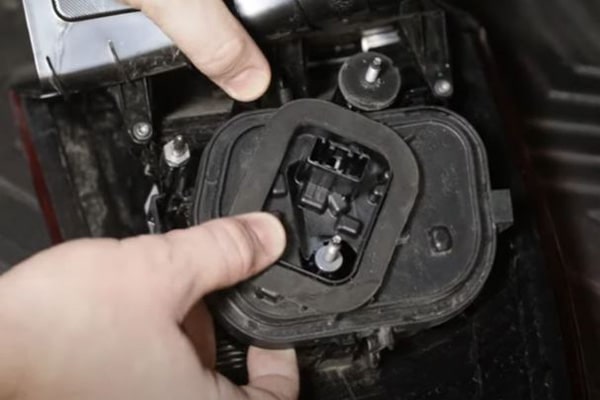 So you can pull it is completely out and that reveals where the bulbs are. Now we can replace them. Alright, we're finally ready to actually replace these bulbs now. Removing them from this holder is really simple. All you do is Gently press the bulb into the bulb holder, turn the bulb counterclockwise then just pull them straight out.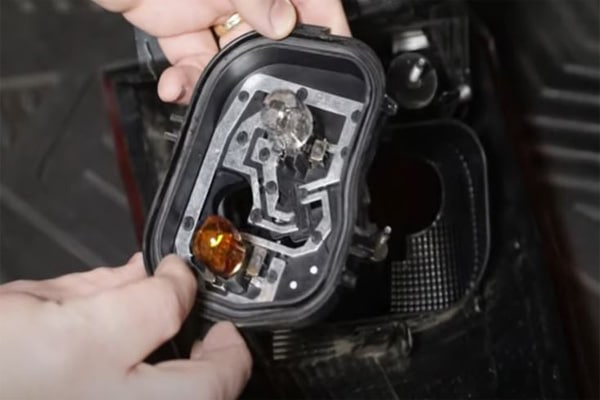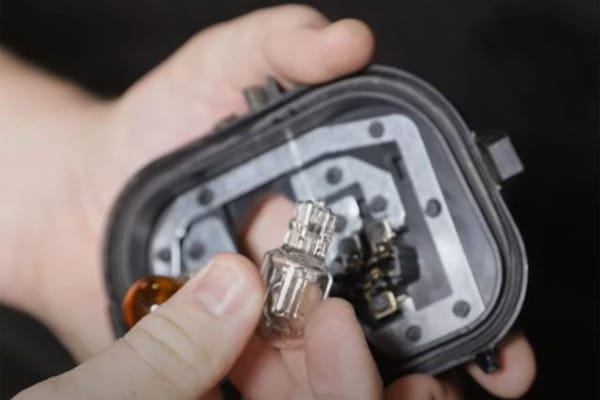 You'll notice the replacement bulb it doesn't matter which direction you put it in. The polarity is not important on these bulbs they're wired such that you can put them in either direction. So just push it into the mount and the bulb is replaced.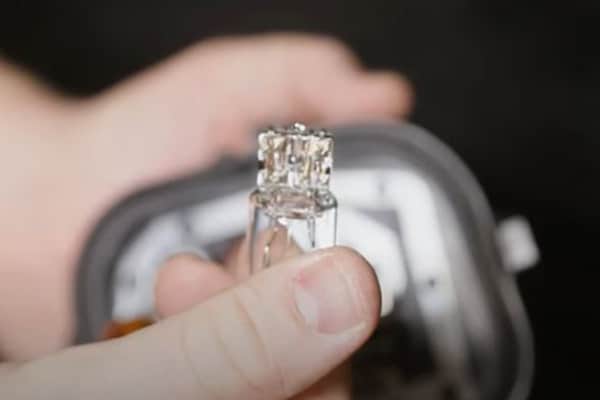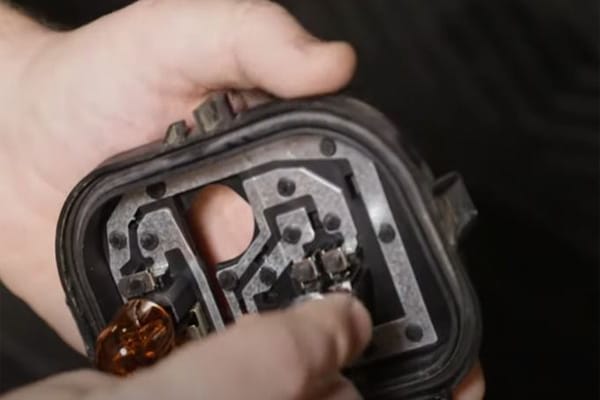 Tips:- One other quick tip if you're replacing headlight bulbs you never want to touch them with your fingers. Because the heat generated by a headlight is enough that the oil in your finger changes the temperature which can dissipate through the glass and you can wind up cracking the glass. But with tail lights it's not really all that important they don't get hot enough. So you don't need to wear gloves or anything for this.
Okay with that new bulb in all you need to do is put everything back together in the reverse order which you took everything apart and then this job will be all finished up.
Tips:- One more quick tip after reassembling everything it's a good idea to test everything before you put it completely back together. Just to make sure that it's actually working. Use your remote to make sure that this lights up.
At this stage, the rear light assembly has been kind of place where it belongs. But if you feel that assembly is still loose that means you haven't put those two posts back in yet.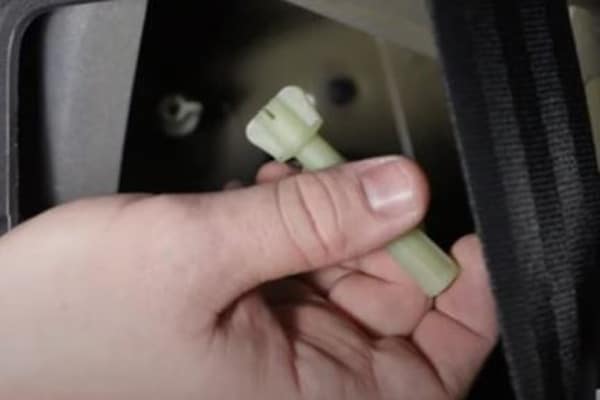 But remember replacing these posts is a little tricky just because it's a little hard to feel around in they're exactly where they go, there are some little threaded posts that they need to screw on it. Just feel around till you find them and then you twist them on just like you would a nut onto the end of a bolt.
Don't forget to replace the access panel. When everything is put back together one final test lets us know that the lights are all working properly now.
As you can see this is a really simple job. Anyone can do it completely without hesitation. Maybe it should take 10 or 15 minutes to complete. So the next time one of your taillights burns out just run to the auto parts store buy one. They'll help you pick out the correct bulb for you. Then replace it yourself don't waste a bunch of time and money taking it to the dealership.
Should 2013 Ford C-Max Hybrid Brake Lights Be Replaced in Pairs?
Only we are explaining here how to replace this faulty side the other side is identical it's just a mirror image of the process. It is also wise to replace both brake and taillight bulbs in pairs simultaneously, cause both have the same age and deterioration. If you replace both of these bulbs so you don't have to worry about these bulbs burning out again soon.
How Much Does a 2013 Ford C-Max Hybrid Brake Light Bulb Replacement cost?
If you are confused or fail to replace a brake light bulb. Take your Ford C-Max Hybrid car to a mechanic. It is difficult to say exactly how much the brake light replacement cost could be charged by a mechanic. It varies on bulb specification. But here is just an idea about the brake light bulb replacement cost. Also, prices may be different in a different locations.
Warning: Do not drive your vehicle until you verify that the brake lamps are working.
Conclusion: Before replacing a bulb, you should also inspect the socket and wiring. Because of the high amount of current flow through the sockets it could corrode the socket and melt causing the brake light malfunction. If it is then no need to replace the brake light instead change the socket only.
In addition, if you are looking for a Ford C-Max Hybrid and Energi lithium-ion battery for your car audio that delivers a longer-lasting performance. We will always be here to guide you.